DISCLAIMER: I have no affiliation with any company discussed in this post. I am just sharing the culmination of my thoughts over the last 2 years as it pertains to (what I consider) expensive-ass espresso machines.
I don't think I'd ever call myself a "coffee geek", but after spending something like $4k in the last 5 years on espresso machines (selling old, buying new, etc.) I think it is probably a fairly important part of my life.
When I started my hunt for an espresso machine, I was coming from a $30, Walmart, drip-coffee-maker and, like a lot of people, the idea of spending more than $200 on a fancy espresso machine seemed insane. Little did I realize that you don't really start having the "real espresso machine" conversation until somewhere around $500.
Fast forward a few months and a friend turned me onto the Rancilio Silvia v3 as one of the favorite starter/smaller/lighter espresso machines on the market:
I picked one up along with the Rancilio Rocky doser-less grinder (after finding out that if you don't have the right grinder, your coffee is worthless and your family will die).
Overall it was around $1k from Whole Latte Love; as an aside I would absolutely recommend shopping with them. They are a smaller boutique-style site that has a deep expertise in all things coffee with fairly competitive pricing.
After having the machine for about a year and a half, I have a much better understanding of the pain-points in these smaller machines that would make someone look at a $1k+ espresso machine in the first place.
Here are my complaints with the Rancilio Silvia V3:
Small boiler capacity, 12oz, means after brewing a shot or steaming milk you need to wait for the boiler to recharge.
The small boiler also means frequently when I am steaming milk, the boiler is recharging as I'm steaming, giving me a totally inconsistent steam (medium, weak, powerful stages depending on the state the boiler is in).
The small boiler means that sometimes when I'm pulling the shot itself, the boiler will kick on to recharge.
Small water reservoir in the machine means I am filling it back up every other day after only making 2 lattes each morning.
Shallow drip tray, it is much shallower than the drawer it sits in for some reason. Could have been deeper.
Poorly aligned back-flush doesn't always end up in the drip tray (from inside the machine) and sometimes runs right outside the drip tray onto the counter.
Poor quality seals on the steam wand valve. Not more than a few months after getting this, any time I pull a shot the steam wand drips unless I give too much pressure turning the valve to shut it (which I don't want to do. It's a weak-feeling knob/valve, I don't want to ruin it).
NOTE: I think if I was only brewing single shots of espresso to drink, the Silvia would be perfect. The reason it falls short is because of the need to steam milk AND brew; the boiler just doesn't have the capacity to service that in an efficient manner.
Given these pain points, I've been looking at nicer machines, to get an idea what else is out there and what kinds of step-up features people are paying for; trying to figure out "what makes a $1k+ machine worth it?".
Without having these pain-points first though, I never would have known.
After doing some searching, it seems one of the most popular prosumer (or awesome-ass) espresso machines coming in at $1300 is the Expobar Office Lever:
My stomach knotted up when I saw the price tag, but as I read and watched videos trying to understand what this does that is so special, I saw almost every one of my pain-points with the Rancilio Silvia V3 addressed… and then some.
First major feature is the 1.8 Liter boiler capacity. That is 5x the capacity of the Silvia. One of the specific selling points of the Office Lever is that you can not only brew a shot and steam right after… you can brew AND steam at the same time. In fact, you can brew and steam non-stop if you want, there is no recharge time once the machine is up and charged.
Another very important feature for longevity (in my opinion) is the option in the Expobar Office Lever Plus model to plumb it to a direct water source as well as a drain (optional, or just keep using the drip tray). For folks that have espresso machines and make a lot of coffee, you know how annoying it can be to stock up on distilled water and constantly refill the water tank in the machine as it gets depleted (which is common given how much pre and post-flushing you need to do of all the components to keep them clean).
If you want to see this machine in action, Whole Latte Love actually puts together usage/tear-down videos of their more popular machines and the one they have for this model is excellent. 720p HD and 13 minutes in length it covers just about everything you'd want to know: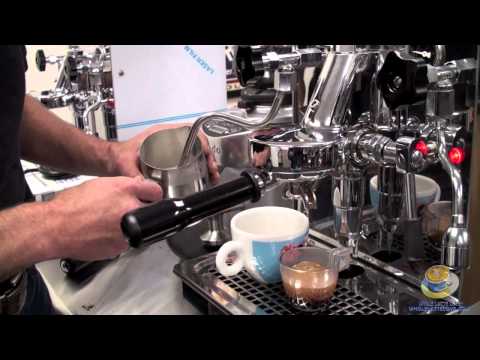 I'm not saying everyone moving from a drip coffee maker needs a $1300 machine; but if you are a coffee geek, and have a Silvia or are thinking about one, you might want to do some more research before committing.