Hello, good people of The Buzz Media!  It's been a while since I have had the pleasure of dropping in and saying, "hello," but I can't imagine a better reason to drop by.
Now that I have had a good couple of weekends to recover, I can officially say this:  San Diego Comic Con happened.  Please note, this was not my first time at this particular rodeo, but the last time I went was 16 years ago, when it was a bunch of folding tables draped in bunting and you could just walk up to whatever cult-favorite celebrity you wanted and get an autograph and a pic.  Back then, tickets were $35.  Stan Lee, Todd McFarlane, those guys from that one Star Wars movie – you could just sashay right up and say, "Hey, how's about you autograph this for me?"  Times, they are a-changin'.
Seriously, the last time I went to Comic Con, I was pushing my older son in a stroller, and my younger son wasn't even around, yet.  Now, what was once a tiny ensemble of geeks has hemorrhaged into the streets of downtown San Diego, making it look as though Mardi Gras collided head-on with the Macy's Thanksgiving day parade, with a few thousand zombies and zealots thrown in for good measure.  You might think it intimidating and contrary to everything you find even remotely comfortable or tolerable, as would any sane person, but the thing about this crowd is that, by and large, they are all just so damned happy to be there that they can't even think a rude thought, let alone behave rudely.  Of course, in a crowd of upwards of 130,000, there are going to be a few run-ins and missteps, but percentage-wise, it is really low.  Mostly, people will talk about costumes and games and comics and celebrity sightings.  It's kind of amazing.  Comic Con is a bit of a universal solvent.
I think this is a good time to get a little bit of Comic Con perspective from someone just beginning their career as a member of the Comic Con demographic.  Ladies and gentlemen, I present to you the rambling screed of Seamus "Moose" Bailey:
Imagine a rainbow-vomiting, guitar-riff-grinding, Pegasus from Krypton (you know, the planet that Superman came from?!). That's just like San Diego Comic Con:  pretty unbelievably mind-blowing. Now, if you have claustrophobia or have the patience of a three-year-old in Disneyland who has been tempted with a lollipop the size of your head, San Diego Comic Con comes highly unadvised. Simply put – Comic Con is comprised largely of massive lines and hordes of people. You will touch more parts of cosplaying human beings with whom you may or may not be comfortable.
SDCC '13 was my first Comic Con since I was a dwarfling of a toddler. Luckily, my buddy Lawrence was my tour guide, seeing as how he was able to make it to preview night – the night prior to the actual event. He was pretty well-versed on where to go to get all the sweet swag and what places to avoid, such as the crowd of religion-screeching, bull-horn-abusing jerks. Now, don't get me wrong, I have no problem with people who have or believe in any form of religion, but don't go imposing your views and/or lifestyle on a bunch of people who basically don't care. Out of the hundreds of thousands of people who were there, I saw more SDCC-goers mocking these Jesus freaks than I saw people take brochures. Mockery such as a well-done Deadpool-costumed attendee holding a "GALACTUS IS NIGH" sign (other signs or sign ideas for future attendees include but are not limited to, "Fear ZOD, SONGBIRD IS COMING," or "ALL HAIL BANE").
 All tomfoolery and mockery aside, SDCC is not only about comics (I know, like I previously stated "MIND-BLOWING"). Additionally, a good fist-and-a-half full of booths, hotel lobbies, and even a MOTHER@#$%ING FULL BLOWN PIRATESHIP (more on that badassery later), all dedicated solely to videogames such as Blizzard, Xbox, Watchdogs, Square Enix, Plants vs. Zombies, Sega…. and, oh yeah… A MOTHER@#$%ING PIRATESHIP devoted to Assassin's Creed IV. I waited an hour-and-a-half in line to get on this ship. Line waits are typically boring as sh*t but, at SDCC, the lines you wait in generally have people with whom you can bond, joke, or even dissect previous videos games. So, the wait was worth it. Once we got on board (we being me and my brother), we were in another line (*sigh*) but this brought us to an exclusive look into, roughly, the midpoint of the game where we could see the game's full dynamics, like a fully-random weather-engine spawning in high tides, furious winds, and brutal rain. Yeah, this game is way more than kickass. After the game-play was over, we were shuffled upstairs to a multiplayer demo for a bit more of a hands-on experience, and I was again mind-blown, not only by the game-play, but also by the Astro A40 headsets and PS4-based demos. You could say it was way fancier than what I am used to with my Xbox 360 slim and Skullcandy SLYR headset. I was slaughtered on my first multiplayer go-around and in the second round; I smeared all but one player, only losing by a mere 50 points.
Starving at this point, we left and went to a little restaurant called Lolita's. Now, if you have had the pleasure of enjoying this Mexican restaurant, you may be able to vouch for me when I say that the California Burrito is a full-scale oralgasm. I thought, "carne asada, cheese, sour cream, and French fries all wrapped in a tortilla? How good can this actually be?" Then my foot went in my mouth after I finished the burrito. My parents thought, "THAT SOUNDS DISGUSTING!" Mad props to Lawrence for the deliciousness of the Mexican gods, as well as mad props to my parents for scoring tickets and taking me. The final note to Comic Con is Hall H.  Apparently – although I wouldn't know – this hall is where magic happens, trailers unveil, futures of shows are announced, and movies are revealed, in a gist. Now San Diego Comic Con is just too massive to pile all into one blog, but I think I captured most of its glory. Shout out to random celebrity and YouTube star encounters, and even scoring a good cameo in a Toby Turner YouTube video!
 ~Deuces from the Moose(s)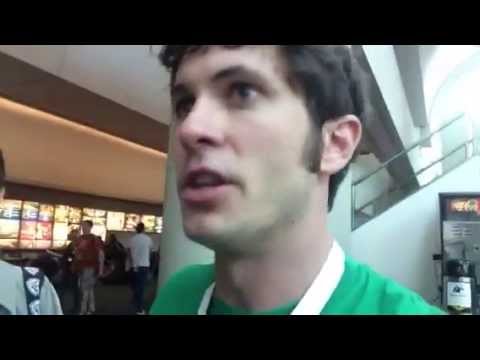 Don't get me wrong.  I had no designs on anything but the melee that Comic Con has become, so I wasn't shocked by it, I just couldn't believe how much the thing has grown since the last time I went.  The best way to present my Comic Con experience is probably to just make a random list of points.  Perhaps you could call it a primer for next year, because if you aren't already planning for next year, you have fallen behind and will have a hell of a time catching back up.
1.  Book your hotel.  Do it now.  Next year's SDCC will take place from July 24th through July 27th.  Even if you don't have passes, you can always go back and cancel the room with no penalty if you end up not getting them.  Better to have something on lockdown for when you do get them.
2.  If you have done any sort of industry-related work – writing, illustrating, screenwriting – apply for professional badges.  Don't sell yourself or your work short.  You might just be surprised to learn that you are, in fact, an industry professional.
3.  Park at Qualcomm and take the trolley.  It's free to park and there is plenty of parking. The trolley stops right in front of the convention center.  A trolley day pass is $5.  Add up the gas money, parking lot fees, and aggravation of struggling to find close parking when everyone is already queuing up for the cool sh*t and you will find that $5 and a little bit of claustrophobia is money and phobia well spent.
4.  Wear comfortable shoes.  Trust me on this one.  There isn't a lot of opportunity to sit down and take a load off, so this is not the time to try and break in the new pair of Manolo's that you bought because they look really sweet with your slutty Wonder Woman costume you've worked on for the past year.  Wear ballet flats, instead, since everyone is going to be looking at your boobs, anyway.  You're welcome.
5.  Ask permission before you take a picture of someone.  This is just common courtesy.  Chances are, everyone will gladly pose with you for a picture.  If you act like a dick, they might not.  I posed with a nice bunch of fellas dressed as The Ghostbusters and they were happy to oblige because I'd asked.  They also revealed that they don't always say "yes" to people, especially if they are rude.
6.  Collect all the swag you can.  There is plenty of free stuff to be had at SDCC, and you should collect up as much of it as you can.  This may seem like a no-brainer, but even if a particular piece of swag isn't something that you necessarily want, it might be something that someone you know wants.  We grabbed a couple of science-specific swag bags that were being handed out, but weren't sure what to do with them.  Later that day, I checked my Facebook to find that a friend had posted a picture of said bag with, "WANT!!!" next to it.  No problem, because I already had the merch.  Not everyone gets to go to this convention, so be grateful and mindful if you do.
7.  Go all four days, if you can.  I managed to get four-day passes for me and my kids – because they only allow three professional passes – so the hubby was left kind of high and dry.  We did manage to get him a one-day pass for Saturday, but we missed so many good panels because of it.  We know better for next year, and now so do you.  Also, knowing that you can come back at any time relieves you of the feeling that you can't take a break.  You will need to take a break.
8.  Network.  Hand out business cards to people with whom you interact.  You don't know what opportunity you might create for yourself and, at the very least; you know that person will look at your blog.  Again, this might be a no-brainer, but when you are there and you are carrying 64 swag bags plus your purse plus 18 posters, you are going to think it is insurmountable to dig out a business card.  Do it anyway.
9.  Donate blood at their annual blood drive.  Blood donations save lives and you get special swag that is exclusive to blood donors.  Since finding the booth that was selling the official Comic Con t-shirts was like not finding the lost city of gold, it is nice to have a shirt that denotes that I not only gave blood, but I did so at San Diego Comic Con '13.  The shirt was free.  I know you can all appreciate a lady who appreciates value.
10.  Don't pass out after donating blood to get free swag at the blood drive.  Yeah.  Big mistake.  Apparently, if you give blood then don't drink enough water and wait waaaaaay too long to eat lunch and carry heavy bags and then become alarmed that your needle-puncture has popped open and squirted some blood, you will have a vasovagal reaction.  I'm not talking "a little woozy."  I'm talking "eat sh*t in front of the Ender's Game tent on Harbor."  Drink a ton of water.  Eat the little snacks they give you.  I can't stress this enough.
11.  Please be aware that there is no first aid.  Not sure how this little nugget slipped through the cracks of Comic Con planning, but should you happen to eat sh*t in front of Ender's Game, there will be no one to render aid.  No medics, no EMTs, just a bunch of confused and concerned security guards waiting for their supervisor while you crawl on your face back to the Red Cross station on the second floor of the Omni Hotel.  I'm glad I didn't run into Darryl or Michonne.  They would have misinterpreted my feeble cries as guttural compulsions and driven a blade through my brain, which would have in turn won an award for best cosplay and it wouldn't have been discovered that anything was wrong until my decomposing albeit cutely dressed corpse was found decaying in the confetti aftermath.
12.  If you see an item that is a Comic Con exclusive, buy it while you can.  If you want something but decide you want to wait until the last day when everything goes on sale, it will be gone and you will be left kicking yourself.  Go to preview night if you can, buy that stuff, then pack it away and enjoy the rest of your trip.  You will never get a second chance to get those Back to the Future Legos.
13.  Eat at Lolita's.  This place is within walking distance of the convention center – next to Petco Park – and they serve something called a California Burrito.  It's absurdly delicious.  Expect a substantial wait to order and then to get your food.  There will also be no place to sit.  But the burrito is so g-damn delicious that it is worth waiting and standing to eat it, but probably not right after you give blood.  See above.
14.  Buy a condo in downtown San Diego.  If you can afford it.  It would just make everything about a thousand times easier.  After I win $400 million in Powerball, I will be looking into doing just that so that next year's Comic Con experience is easy street.
15.  If you want to see a particular panel discussion in Hall H, get there early enough in the day to be in line for whatever the first panel is and plan to stay there.  This is grossly unfair, but people cop a squat in hall H for the entire day and the room isn't cleared between panels.  You would think that a production with this much money flowing could hire some burly security guys to sweep the place, but – much like forgetting first aid – they don't think it's worthwhile to actually rotate the audience a bit.  The best way around this is to get in there from the beginning and stay in there until you see the panel you want to see.  They still let people line up for the panels, as though there is even a ghost of a chance anyone in line will get in, but then when the panel starts they just turn the entire line away.  It's effing ridiculous.
I think that pretty much covers the basics.  You really can't know how to plan for an event you've never been to, so the first time you go it is more about simply experiencing it.  Yes, there are a dozen things that I wish I could have done while I was there, but you can't have everything.
Photos courtesy of Mikal Mullaly and Seamus Bailey.Star