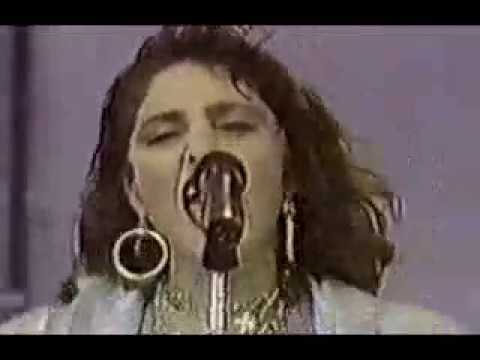 I can't believe it's been 25 years.
The single greatest lament of my life – aside from the fact that I am having to rewrite this entire post because the Youtube video decided it needed to obliterate my entire original text – is the fact that we were visiting family IN PENNSYLVANIA a week or so before the Live Aid concert, and my parents would not alter their schedule in any way to allow me to go.  I wanted to go so badly.  I wanted my ticket purchase to go towards something as magnanimous as "feeding the world."  Mostly, I just wanted to BE THERE.  Even then I knew there would be a day when I would be saying, "I can't believe it's been 25 years," and the lament aches just as badly now as it did then.  I ended up watching the greatest concert event of my lifetime on the little black and white TV in my bedroom because my dad wouldn't even let me watch "that crap" in color.
I am not sure if anyone still cares.  I am pretty sure that most of my day-job coworkers weren't even ALIVE on July 13th, 1985.  But if you were a teenager back then, you will remember Bob Geldof's endless pontificating about this multi-continent concert event.  You will remember how bands just signed on without an ounce of douchebaggery because it was a great idea and a great cause.  You remember getting all situated in front of your TV with your soda and snacks because you were IN IT FOR THE LONG HAUL…at least until somebody like Neil Young or Bruce Springsteen came on…that's when you went to the bathroom.
It wasn't even until this year that I learned that my good friend Mark actually WENT to LIVE AID.  I can remember standing in the doorway of his house in stunned bewilderment that A) I was only JUST NOW learning this after having known him for over a year, and B) he didn't get a t-shirt or even keep his ticket stub.  He was just sort of cavalierly "meh" over the whole affair.
I nearly wept.
Although I will always harbor a tiny bit of resentment towards my parents – even this long after their deaths – I do have the DVDs, which I will be watching later today, and I also have come to the realization that the Wembley concert was WAY better than the one at JFK, and if I couldn't even get them to drive me a hundred miles to Philly, booking a flight to London was completely out of the question.
In any event.  Happy Live Aid day!  Get into the groove.