A friend… an ex-friend of mine, Brian Fernandes, sent this to me tonight while I was sitting at my computer doing the internet.
First our conversation opens up with him sending me this picture:
and at first glance I think "That's a big spider" then I think "… but who cares?"… I let it sink in a bit longer and then realized the spider was in a house some where, because of the molding around the corner of the wall there… my guess is a ceiling.
Then I realized that for someone to take a picture like this, they liked walked into a home or hotel for the first time and saw it… meaning this nest full of fuck was growing inside a building somewhere. Then I got the willies…
Brian then sent along a link to a comment from JFreezy left for the story that originally hosted the image above, and it was pretty funny:
I was in Zimbabwe Africa once (don't ask why, it's a long story) and the lodge we stayed in was freaking infested with spiders about that size! We spent about 3 hours going around our room killing them so we could sleep without worring about them eating our faces in the middle of the night. In the above comment, Spinksy was 100% correct about the death by flame method! We found one spider that was so huge, when I tried to smash it with a boot I only hit its leg and its LEG left a splatter mark in the wall!! JUST ITS LEG!! So we busted out the makeshift flamethrower (hairspray and lighter) and torched that sucker from 3 inches away. It dropped off the wall, ran like a spider out of hell under a couch! We all screamed like little girls as we watched the couch go up in flames! We put the couch out and found the body hanging from a spring inside the couch. That experience will be burned (no pun intended lol!) into my mind forever! Lesson learned: fire doesn't solve everything LOL!
… are you freaking serious? Spiders so big he's having concerns with how to crush them with his shoe?
At this point, I don't just have the willies… I am more or less making a pool of gasoline around myself that I am prepared to light at the first sign of movement in the house (cats not withstanding).
Anyway, at this point our friendship is in shambles… I have the willies and hate Brian and he decides why not go for broke? So he follows up with this shining example of why mankind should make pocket-sized atomic bombs:
I think their nick names are "Camel Spider" or something, but they are essentially tailless whip scorpions, we even have them here in the states. I got this picture of one fighting and eating a normal scorpion at my parent's house a few years ago:
and to top it all off, he finally sends me a movie of one of these things eating a lizard… yea… not a bug, or a butterfly… or a seed… or some lint… oh no, it was eating a lizard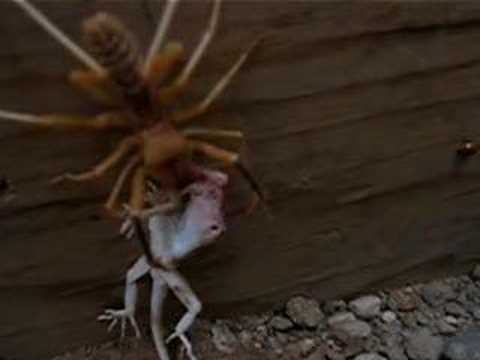 So my plan so far is to simply avoid sleep tonight, and to stay up with my nightvision goggles on, watching the floor… and waiting.
Thanks Buddy!
Update #1: He just sent me this:
That, right there, is like being in an argument with a friend, and burning his house down to make amends…
Update #2: Jens Eckels just added this wonderful bit to the story… "Let's not forget what happens when you get bitten by a spider (Brown Recluse)":
Thanks buddy… <vomits bile all over desk and falls backwards out of chair>
Update #3: Looks like they found one of the world's largest Golden Orb Weavers in Australia eating a freaking bird.