The trailers for the Expendables were frustrating. They basically showed you that the cast was made up of just about everybody in action movies since the 80′s (with the exception of a few who balked at the size of the part, didn't want to be in an ensemble picture or couldn't leave the country due to tax evasion charges) and that it was, in fact, an action movie. What they didn't tell you was what sort of action movie it would be. Would it be a throw back to the cheese filled 80′s with campy action and silly one-liners in the vein of Commando or would it be more like what Stallone did with Rambo where the action was brutal and hardcore violence and gore? Depending on your taste, this is an important question. The answer? A tad bit of both but it is much more like the newest Rambo than anything the 80′s tried to pull off.
Straight away, forget about the story. It really doesn't matter that much and has  couple of twists but mainly it just exists to allow the characters to kick a bunch of ass. For the sake of completeness I will give a short break down. The Expendables are a group of mercenaries who are super professional and super capable. They are hired to take down a South American dictator and when Barny (Sylvester Stallone) and Lee (Jason Statham) head down to check it out they find that there is a former CIA officer who has gone into business for himself. He is backing the dictator and pulling the strings to capitalize on drug profits. Barney and Lee decide that the place is too well fortified and the situation is too sticky with CIA involvement to be worth the five million dollar fee given they will most likely be hung out to dry after doing the CIA's dirty work so they are going to walk away. But there is a girl. There's always a girl.
While the story is not so important, the writing is in the same boat. 80′s cheese had terrible puns and ridiculous dialogue. The writing here is a bit uneven which would have been okay had they been going for the 80′s feel but they really weren't. So some of the writing is pretty cringe worthy, particularly early on and it kind of jarred me out of the movie. But overall the writing is passable and delivers some genuinely funny moments and some clever dialogue that never really gets into one-liner territory at all.
The performances have uneven moments as well but in general you get a feeling of camaraderie between the leads and the villains are just right. Eric Roberts plays the evil former CIA guy James Monroe with just enough douche baggery that you can't wait for him to die but he isn't over the top and silly. Likewise his two henchmen played by Steve Austin and awesome martial artist Gary Daniels do their jobs of standing around being scary very well. Dexter's David Zayas turns in a convincing dictator performance as well in a role that is pretty by the numbers but he gives it a nice feeling of realism as a guy who is having second thoughts about dealing with the devil but not really wanting to give back the money.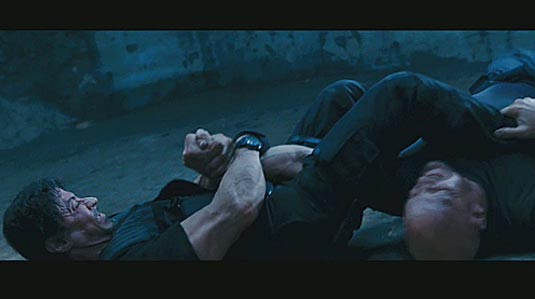 As for the Expendables themselves, Stallone does some good work here with a character that is ultimately every action movie lead ever. Statham likewise fills the second in command role the way you would expect. Really all characters are classic archetypes of the genre. Jet Li is a martial arts specialist looking for more money, Randy Couture is the philosophical killer who is still a mercenary but is heavily involved in counseling and is trying to get his fellow mercs into a program, Terry Crews is the somewhat goofy big dude who has heavy firepower and Dolph Lundgren is the guy who has done one too many combat missions and has gone around the bend. He is just an ear necklace away from his character in Universal Soldier.
Okay so we have a weak story with uneven writing and performances, how could the movie be awesome? Are you kidding? Look at the last two paragraphs. Who gives a shit about the story and the dialogue? With all these people in it the only way it could fail is if the action was limp and uninspired. This movie did not fail.
The action scenes were enormously satisfying and well put together with violence that isn't always extreme and gory but is always exciting. The number of 'oh SHIT' moments in this movie is astounding and seeing fights between a lot of these action and martial arts legends are just what you hoped they would be. I was worried that the fights would fall short of expectations given how epic I imagined they would be but I was very pleased to find that they were exactly as epic as I imagined them. The match ups in this movie are great and seeing Jet Li and Jason Statham going up against Gary Daniels was one of my favorite fights with one of the most awesome finishes ever. There was no weak link in the action scene chain at all and everyone had a chance to look like a badass. There are a few moments that are completely ridiculous and over the top but they are also so generally cool that it doesn't really matter that much.
The gore is not as extreme as something like the new Rambo but it is pretty brutal. Bones get broken, heads get lopped off, people's torso's get torn off their bodies by high caliber gun fire…pretty much anything you can imagine is on display here. It looks really good generally but there were a few moments when you could tell that the blood spurts were digital. I don't have a problem with digital blood generally but some times it can look pretty fake and there were a couple of times when it looked fake here. Luckily that was usually followed up with someone's head exploding so it doesn't matter so much.
It should be noted that even with all these actors in the movie, Stallone, Statham and Li are the stars and it is much more about them than the other characters. Statham even has a subplot that really has no bearing on the rest of the movie but is awesome because it involves Buffy/Angel's Charisma Carpenter and Statham laying a brutal beating on an abusive boyfriend. This little diversion didn't do anything to advance the plot but was completely badass.
Conclusion [8.5 out of 10]
If you are in the market for a finely acted tale of suspense with a taut script and sublime pacing and you are looking at the Expendables it is probably because you are scrolling past titles to get to Inception on the marquee. The name of the game here is bad ass bone crunching and limb severing action and the Expendables delivers better than just about any action movie in recent memory. This is not a date movie and it is not an Oscar contender. This is just about going and watching legendary action stars at the top of their game beating and shooting the hell out of each other. There needs to be a sequel with even more action stars immediately.