PLEASE READ FIRST
Welcome! This post was written years ago when people first started discovering the "green blob", "yellow haze" or "blue tinge" discolorations on their 50″, 60″ and 70″ SXRD rear-projection HDTV's from Sony. Years later (and many updates to this story as we went through the discovery process together) it was discovered the optical block in the Sony SXRD sets was faulty and distorting over time, causing the discoloration. Sony denied this vehemently all the way to a class action lawsuit that they settled, offering an extended warranty (until Oct of '09) to all owners for a free optical block replacement. 2009 has come and gone and Sony TVs are still failing all over the place. More recently people have discovered that Sony (fairly regularly) will now offer replacement TV sets at discounted prices to people that call. For the most part the first TVs offered tend to be smaller (46″) and older (500 series LCD) and only with some persistence are people being offered newer or bigger replacement TVs from Sony – all at a discount. All the updates below try and summaries all those changes over the last 4 years every time a new piece of information was learned. I hope it helps!
---
Update #12: If you are planning on calling Sony and negotiating a replacement TV and they only offer you the 46″ model and nothing bigger (and you want something bigger and are willing to pay an upgrade cost) try emailing "Sarah" directly at sonylistens@am.sony.com to get your issue ironed out. Reader seventhseal had to go that route to get a higher end replacement offered to him.

Update #11: User BP called Sony about a repair, Sony offered him 2 replacement TV choices:
46″ LCD for Free (or)
55″ LCD KDL55EX500 for $525 + Tax
BP asked why he wasn't being offered a 60″ replacement for his 60″ SXRD that was ruined and the Sony rep told him it was a "take it or leave it" deal and he had 7 days to make up his mind.
BP hung up and called back the next day. He got a new customer service rep on the phone who offered him a 60″ KDL60EX500 for $150 + tax and was confused why the previous agent hadn't told him about this.
If Sony is offering you a bunk deal when you call, hang up and try again another time to see if the deal improves! Thanks to BP for that information.
Update #10: User Mark called Sony and confirmed that the "Green Blob" is now part of a official recall from Sony who will send out a repair company to confirm the issue with your set and order the replacement part in 2 weeks to repair it. He did clarify that you cannot take "no" for an answer and just keep pushing. Here's his reply with phone numbers for Sony and the repair shop:
I contacted Sony at 239-768-7604.

Sony has made the green blob an official recall of all affected TVs.

A&G National Repair (Which turned out to be Sears)comes to your house, verifies the model number, and the part is shipped to your house within 2 weeks. Contact them at 800-659-7060.

When you chat with Sony, don't take no for an answer.
Update #9: User Eric provided an update link to learn more about the class action coverage and which sets are effected:
http://www.kb.sony.com/selfservice/microsites/search.do?cmd=displayKC&docType=kc&externalId=http–esupportsonycom-perl-news-itemplnewsid277templateid1regionid1KSMFlag7370&sliceId=&docTypeID=DT_NEWS_ALERTS_1_1&dialogID=82614236
Update #6: Leo called Sony demanding a replacement and Sony replied that they only thing they could offer is a repair. Upon further pushing Leo was told that he could write the Executive Review Committee with his concerns. Here is the contact information courtesy of Leo:
Executive Review Commitee
12451 Gateway Blvd.
Fort Myers, FL 33913.

They asked me to include the following:

Request to commitee
Model and Serial number
Copy of bill of sale (or note on letter that I cannot provide one)
Reference number (i got this from CS) and
Telephone, email and home address.

The hope being that if enough people write with their complaints of the settlement, Sony might rise to the occasion and do something more (offer replacements?)
Update #5: The pending terms of the settlement were posted by long time reader DOBI below:
I just read the pending Class Action settlement on Sony's website; http://esupport.sony.com/sxrdsettlement
This is really good for us who have these problem TV's… Did you realize that SONY has extended all in home warranty service until June of 2009? And, if you own or received one of these XBR50 or XBR60's you are part of the Class Action. You needn't do anything to join it. You can Opt out of the Class Action, but who in the world would want to do that?
OK..
Look at the benefits;
What benefits does the Settlement provide?

A5. Currently the Settlement is still pending final approval by the Court presiding over the case. If approved, the Settlement provides for Sony to offer the following benefits, with proper documentation:

An extension of the limited warranty to provide in-home service or replacement of the optical block in your Television until June 30, 2009, and special benefits in fulfilling this warranty extension.
The refund of expenses incurred to replace the optical block in your Television.
The refund of money paid after July 15, 2006 for an extended service plan for your Television from Sony or its extended service plan provider, Service Net Solutions, and cancellation of that extended service plan, if you so choose.
The refund of money paid to Sony for the exchange of your Television for an XBR2, A2000, or A2020 SXRD model television, if you required more than one repair of the optical block in your Television.

I have read on this Blog that some of you had your sets exchanged for another model and you had to pay a cash differental… Guess what.. You get your money back if I've read the Settlement correctly.
The best thing to me is, that SONY has extended service on these stinkers until June of 2009. We had our first OB replacement just a couple of weeks ago with the new improved OB.. Lets hope?
IF things go sour again, we have more time to contact SONY about it..
Read the Settlement, I didn't know it exsisted until last night!
Original Post:
More information on the green discoloration issue on the Sony SXRD sets, it seems there is a class action lawsuit against Sony for this! I feel this is a good move, it is too easy to find a set having this problem for it to be a fluke and so far the only word from Sony about the issue that is reported over and over and over again by users and warranty technicians is that "there is no issue" or the most they acknowledged is so far as is a "warm up issue", sorry, no it's not.
Anyway 'sourcery' was given permission to post the lawyer's contact information to the Sony A2000 thread that is handling the class action lawsuit, his information is as follows:
Robert I. Lax, Esq.
Robert I. Lax & Associates
535 Fifth Avenue
21st Floor
New York, New York 10017
Tel: (212) 818-9150
Fax: (212) 818-1266
rlax (at) lax-law (dot) com
According to 'sourcery' Robert is most interested in speaking with Sony technicians or folks that have spoken to Sony representatives about the green blob issue to hear how it was described from Sony's perspective to the person or technician.
If you suffer from this problem or have information for Robert, feel free to contact him. (Digg this)
Update #1: Sony have a QA process problem? Yes it seems so. Sony was the producer of all the batteries that Dell just recently had to recall because a few of them were blowing up. Keep up the good work Sony.
Update #2: Robert Lax, the lawyer handling the Class Action Lawsuit has sent notice that the website is now online: http://www.sonysxrdtvclassaction.com/
Update #3: John W. has posted a new Sony Support URL for their FAQ system that declares extended support for XBR1 sets as well as Sony reimbursing any out-of-pocket expenses owners may have spent fixing their XBR1 sets.
Update #4: Ken has updated the comments to say that his XBR2 is already showing a yellow stain. So it seems the verdict is in and the XBR2 did not completely correct the issue.
NOTE: Updates 5 & 6 are at the top of the post
Update #7: Greg Witham, in the process of writing his own script for a YouTube video of how best to destroy his Sony TV, provided a link to a YouTuber that has already done so… by taking it out into the desert and shooting it to death. While we wait for Greg's video, here's gwamba's: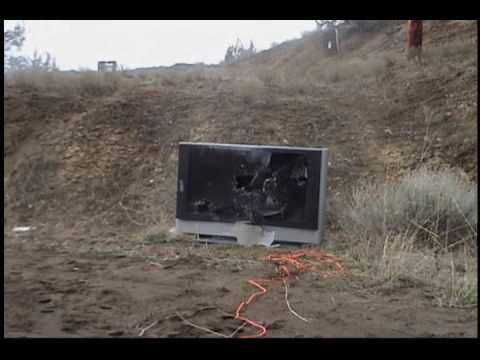 Update #8: Got sent this video from The Onion, for all the Sony-haters out there, it's hilarious:

Sony Releases New Stupid Piece Of Shit That Doesn't Fucking Work